04 Feb 2018
39 Bridal Designers You've Probably Never Heard Of…Until Now
Introducing: Bridal's New Guard.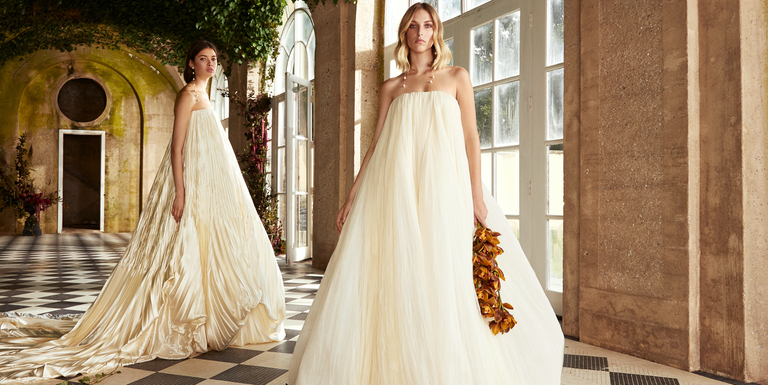 But, bridal's more recent collections have proved especially exciting for the bride seeking something unexpected–from a designer she's never heard of. Graduates of these famed fashion houses, established household names with an eye on the bridal market and some new kids on the block have ushered in a more competitive, dynamic and diverse bridal fashion scene for those looking to stand out from the Chantilly-clad pack. No matter what your personal style, these new talents (who hail from the U.S. and the world over) are driving the of-the-moment bridal conversation, offering twists on the traditional staples we've grown accustomed to. Introducing: bridal's new guard.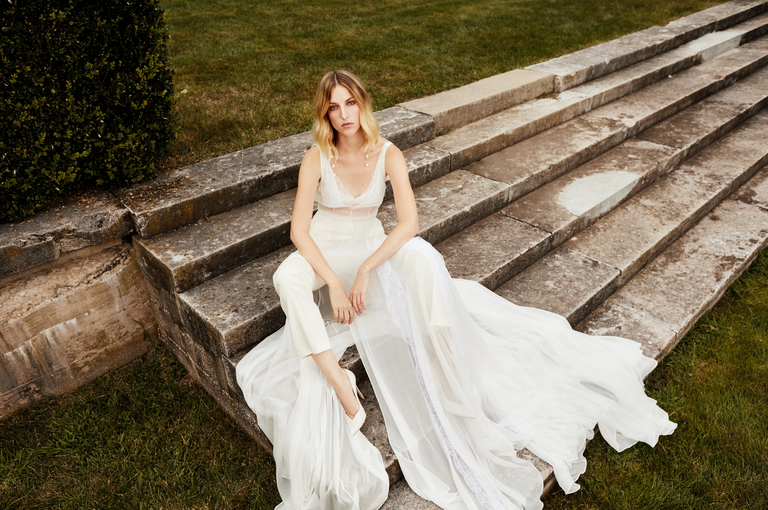 Danielle Frankel doesn't want 'bridal' to be considered a bad word in the fashion industry–so she created a line it-girls and young brides alike would be immediately drawn to. "I'm looking to bring all of the fashion-forward elements of ready-to-wear to the bridal experience," she says. "I want to give women something that I see them looking for, but that they're not finding–simple pieces that are technically beautiful, and investment pieces that you can carry beyond the wedding. The designer is all about taking the best parts of getting dressed–layering, styling, personalization–and applying them to bridal, with signature pieces like jackets, layering shirts, belts, gloves and unique separates taking center stage in her debut collection. Said the designer in her exclusive launch with BAZAAR.com, "Modern brides understand the notion that throwing a mid-thigh length silk wool coat over your ball gown for the ceremony is a fashion moment. Then, taking off the gown and buttoning the coat completely changes the look–it's now a mini coat dress for your after-party. I want to challenge brides to take it one step further; open up that mini dress/coat and wear it over jeans and a t-shirt for date night. My bride understands that being cool can also be classic."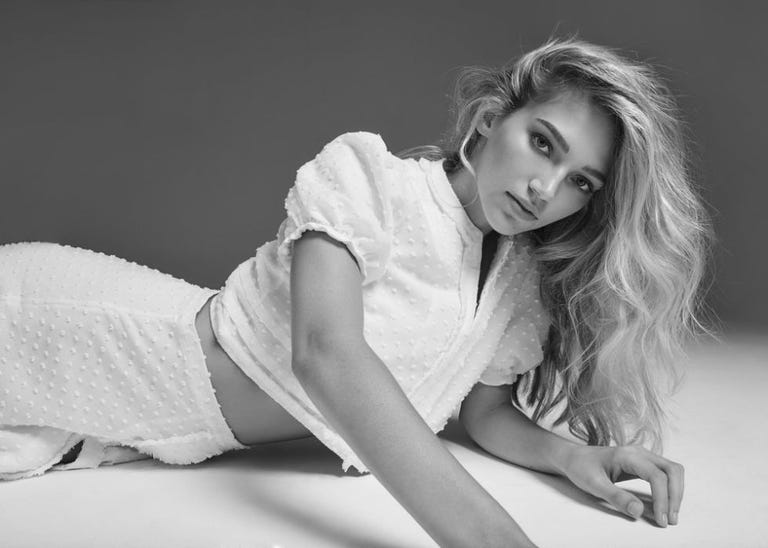 Downtown NYC based designer Meredith Stoecklein is all about keeping things simple, easy-to-wear and inspired by the key women in her life. A conversation about LEIN's six-piece capsule debut immediately turns the designer's grandmother and her five sisters, whose elegance and singular personalities inspired the line. From the swiss dot A-line midi skirt and puff-sleeved cropped jacket to a sharp jumpsuit with a plunging ruffled neckline, each look speaks to a different bride and celebration, from a cosmopolitan's loft party to a low-key vow exchange on the beach. Like some other key names on this list–we're talking about the smart RTW-bridal hybrids like Houghton, Danielle Frankel and Caroline Hayden, LEIN isn't intended to speak only to the aisle–Stoecklein's goal is to have her brides in her pieces long after the big day.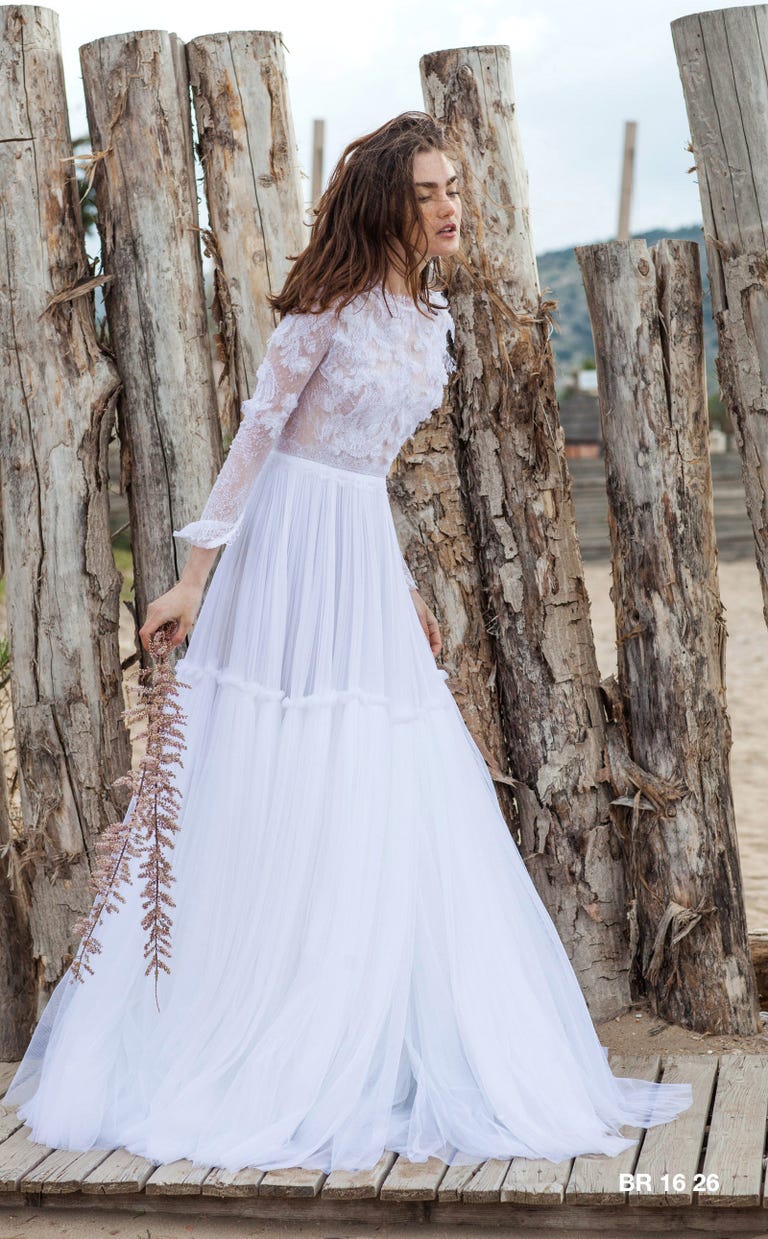 Greek native Christos Costarellos merges the ease of the Mediterranean with the construction, attention to detail and fabric quality of a Parisian house. Often utilizing multiple laces to create one single silhouette, this designer is never looking for the easy way out when it comes to designing for his beloved polished bohemian. Imagine discovering new details in each fitting and up until your wedding day–from hand cut fluttery appliqués used to create that much more texture and dimension to a softly frayed hem intended to make the wearer appear effortless to a soft puckering atop a single tier in your skirt. This is the brand for those who are torn between going barefoot on the beach or airing on the side of something more refined.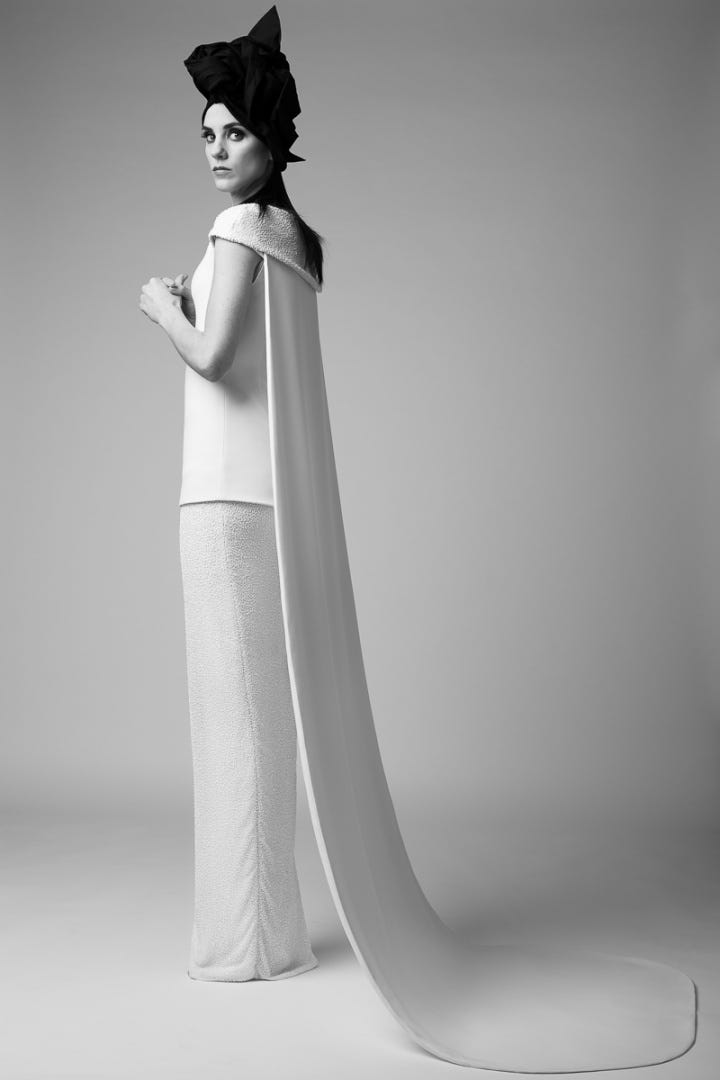 Bridal is chock-full of lace, embroidery, beading and appliqué, but for the minimalist bride, options are, well, minimal. Sophie et Violaattempts to create the wow factor bridal requires, but with a modernist slant, focusing on sleek, clean, standout silhouettes without the fuss. Consider this label if you're after capes, drop-waists and watteau trains that feel more interesting in their execution than overwrought, and opt for the designer's custom offerings should you be looking to mix and match specific elements of the line, or create your own bespoke bridal look.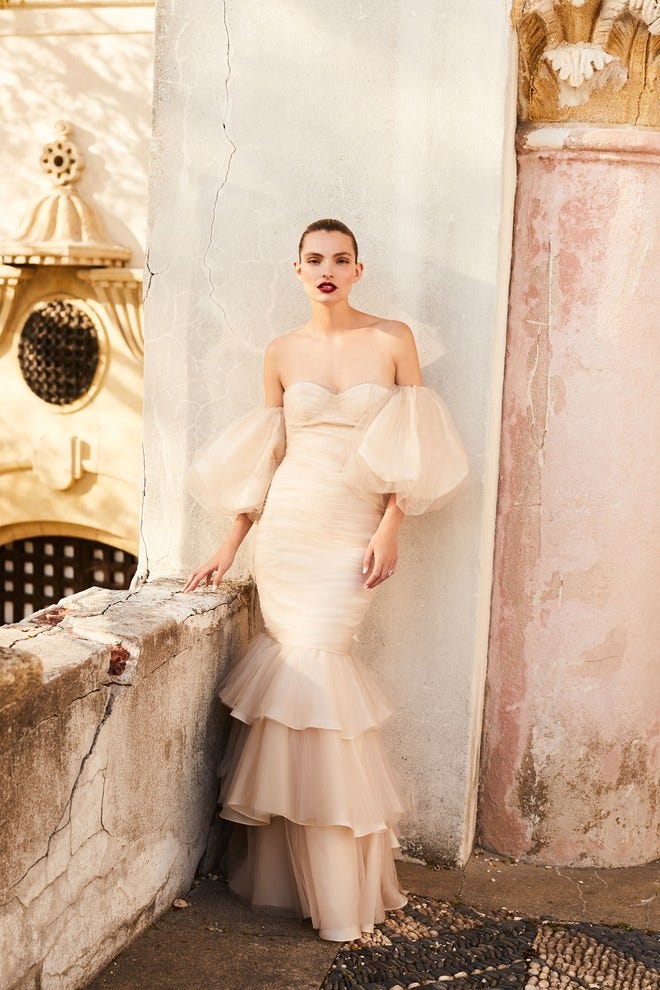 Courtesy of Moda Operandi
It-designer Johanna Ortiz's flamenco skirts, off-shoulder tops, bold ruffles and statement silhouettes are being brought to the aisle courtesy of Moda Operandi. The designer, a favorite for party and wedding guest dressing alike, fills a key void in the wedding world–cool styles that feel special enough to be accessorized with a bouquet, but don't feel over-the-top glam.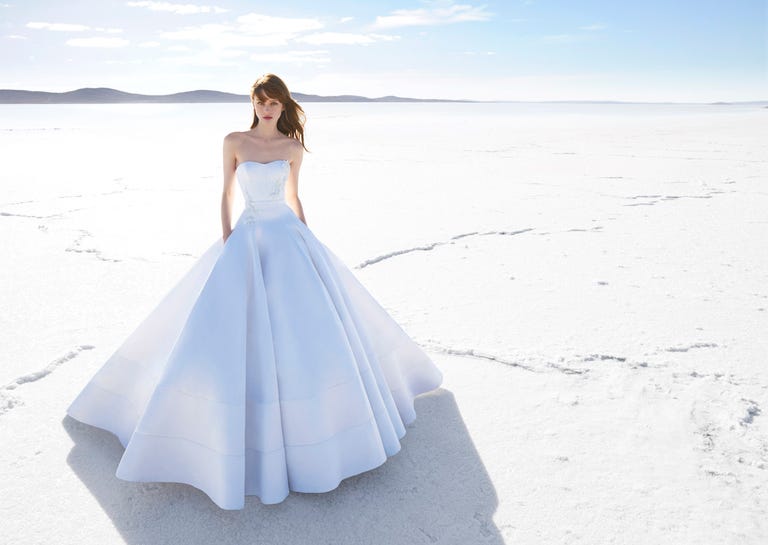 An Aussie designer famous for his knack for shape and volume, Alex Perryis better known for his chic and sweet cocktail looks and red carpet wins down under. Per his past seasons, expect well-crafted volume, expert cuts, nipped waists, top-notch craftsmanship and unexpected fabrications. The best part? As you walk down the aisle in one of Perry's show-stopping looks, your 'maids can drop jaws in his killer cocktail numbers.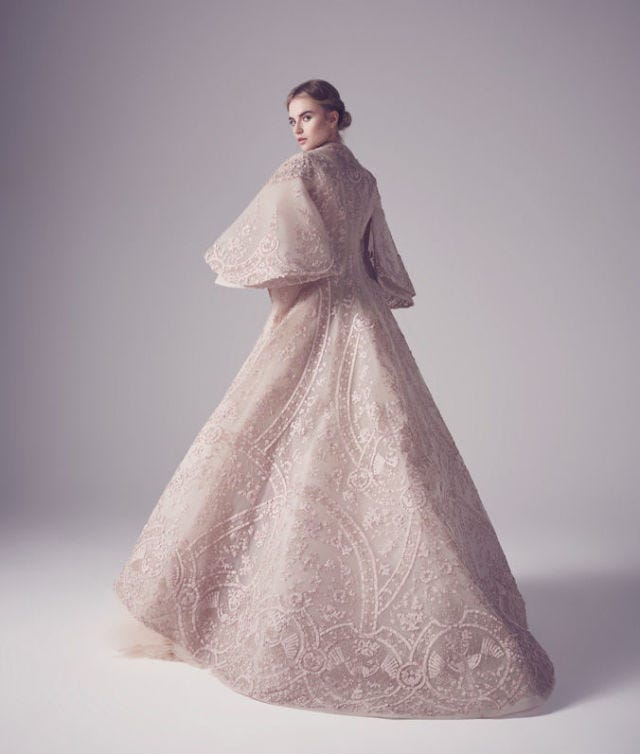 The Middle East has long been known as an epicenter of glamour, and Beirut based Ashi Studio caters to the area's most opulent–with a keen eye for innovative, architectural silhouettes and intricate embroideries. The designer has been praised for his Couture bridal for seasons but in our opinion, his work hasn't yet received the love it should stateside. With a rise in the brand's celebrity fanbase–SJP has worn the label, Zendaya has shown them love on the red carpet, Lady Gaga donned a custom gown for the promo of her debut on American Horror Story and Whitney Port wore the brand down the aisle–and a capsule of Couture bridal available out of their Lebanon-based studio, we're hoping more and more American brides with a flair for the dramatic take notice.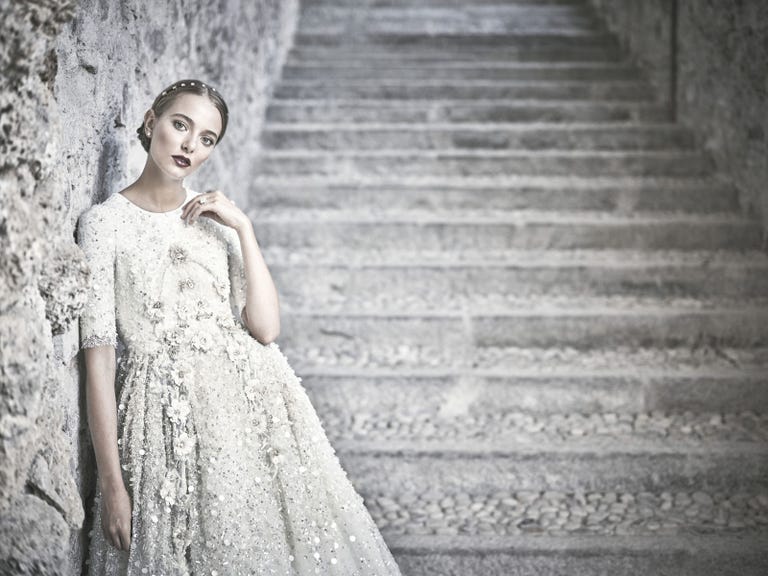 Remember royal wedding mania? How could we forget when the Duchess of Cambridge's Alexander McQueen by Sarah Burton gown gave made it chic for brides to consider covering up once again (even if they weren't dressing for the Abbey). Then, the rise of the super sexy bride emerged, with head-to-toe illusion gowns, open backs, plunging-V necklines and sheer skirts in tow. Gowns that leave little to the imagination are a feat of fashion engineering–but they can leave little room for actual design. Chana Marelus, based in Israel's Bnei Brak, an Ultra-Orthodox Jewish community just outside of Tel Aviv, answered the call of her conservative clientele: those with a religious, customary need to cover up–but wanting to do so with the style and taste level of the Paris runways. In her bridal and evening range, sleeves and high necklines are a given; so are jaw-dropping beadwork, stunning long trains and impressive texture plays. With the silhouette options slightly limited, Marelus experiments with color, beading, texture and detail–expect a perfect fit, dramatic capes and skirts and details that hearken to Haute Couture.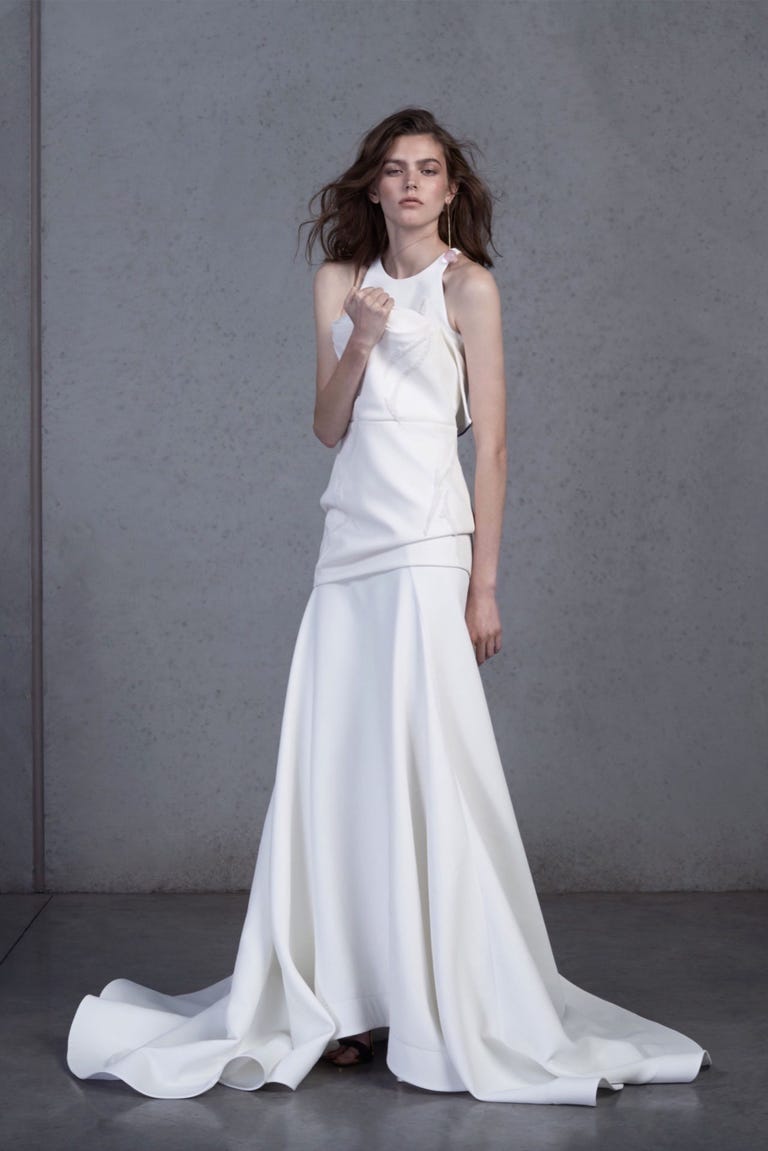 Neoprene mesh ballgowns, velvet flocked dots on organza draped skirts and horsehair trimmed tops are only some of the innovative details designer Toni Maticevski has used in his inventive ready-to-wear label. He's translating them effortlessly into a bridal capsule this season, and is also catering to brides for bespoke gowns in his Australia-based atelier. Maticevski experiments with shape and scale consistently, always creating something that feels undoubtedly new. For the bride whose a mainstay on the gala circuit or has been a bridesmaid one-too-many times (and requires a bridal gown that feels like a departure from her black-tie uniform), this is a brand that should be on your radar.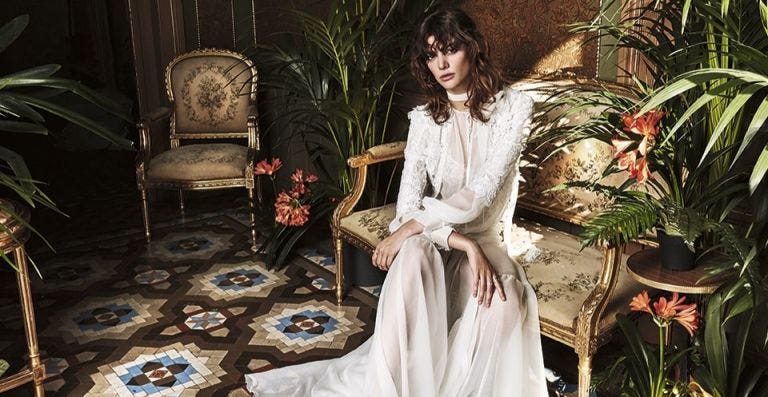 Family business Yolan Cris was launched by Barcelona-based sister duo Cristina and Yolanda, who manage the design and business behind the brand respectively. The sisters grew up in a bridal salon–their mother owned a gown shop in Spain–and so they understand as well as we do how over-saturated the wedding world has become. The sameness of bridal fashion can make anyone go ivory blind; and over time gowns seem to merge into one large meringue of tulle, lace, beading and pleats. That's why this label seems to understand the importance of creating gowns with personality, intention and a point of view. Yolan Cris is packed with polarizing styles that pack a punch and instantly speak to an individual, an aesthetic and an individual style sensibility. If you're after something regal, be it neo-Victorian, opulent and glamorous or a touch gothic, they get you. If you're after something sexy and sultry, they have that too; and if you're thinking you're more of a free-spirited boho, you're covered. You won't be starved for options with this brand, both their bridal and evening collections are expansive, but minimalism is in no way part of their vocabulary. The one through line? Each gown is designed with unexpected fabrics, never-before-seen laces, brocades and silks and delivers a fresh point of view to the bridal mix.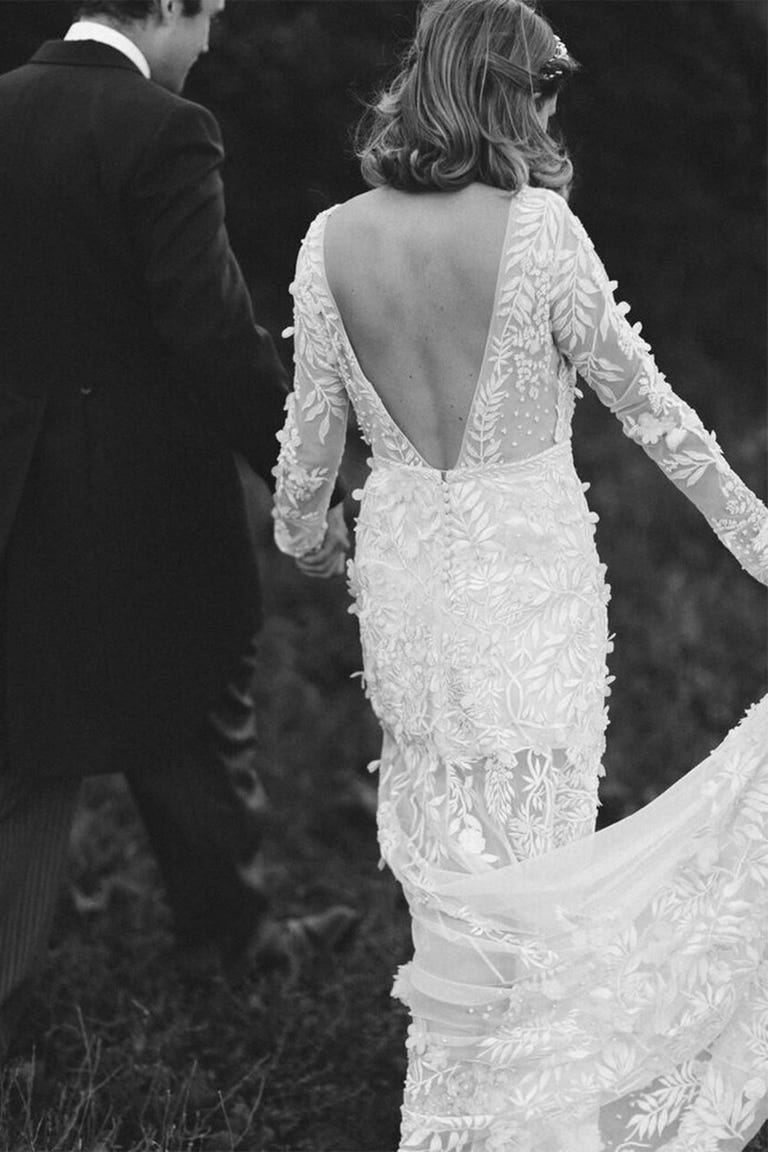 Stints at Dior, Galliano, McQueen and Giles (and a degree from Central Saint Martins) prepared British designer Hermoine de Paulafor her foray into bespoke bridal. Her flair for "romantic surrealism" in both her prints and her design motifs results in sheaths that surprise upon closer inspection. Think a scatter of fuschia fabric petals on a bride's train, a wreath of pastel blossoms framing a keyhole back or a sentimental line of poetry or wedding date threaded into a waistline or cuff. Consistently inspired by the flora and fauna of English gardens and the countryside, expect motifs that look and feel equal parts luxe and organic. Looking to find this label stateside? LOHO Briderecently added them to their Los Angeles stock.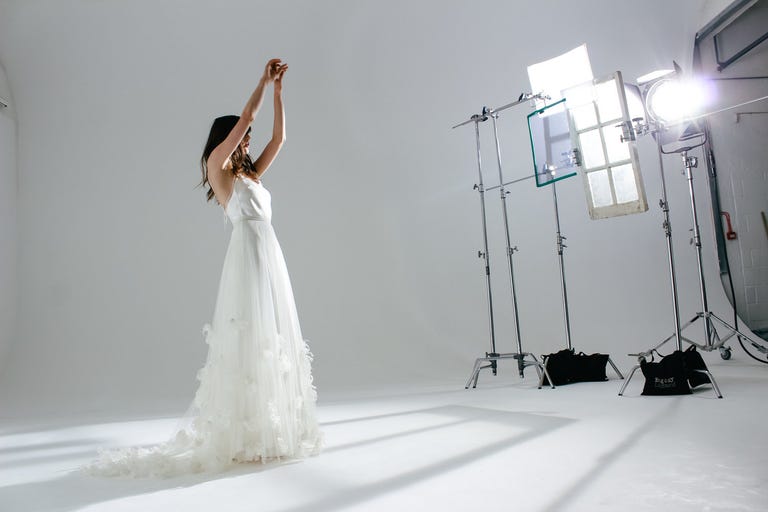 Designer Kate Halfpenny channeled her years styling and designing custom pieces for the red carpet for her London-based bridal range, which is focused on real women's bodies and the crosshairs of vintage inspiration with a downtown, effortless sense of British cool. With celebrity credits that include Kate Moss (yes, Kate Moss), Halfpenny London's line is designed to be styled by and for each individual bride, allowing them to mix and match separates and layer pieces until they've found their ideal look. With a wide range of well-priced options to choose from, this line is slowly becoming a go-to for laid-back brides seeking an effortless look and feel–and just added an exclusive range for Net-a-Porter to it's vast array of offerings.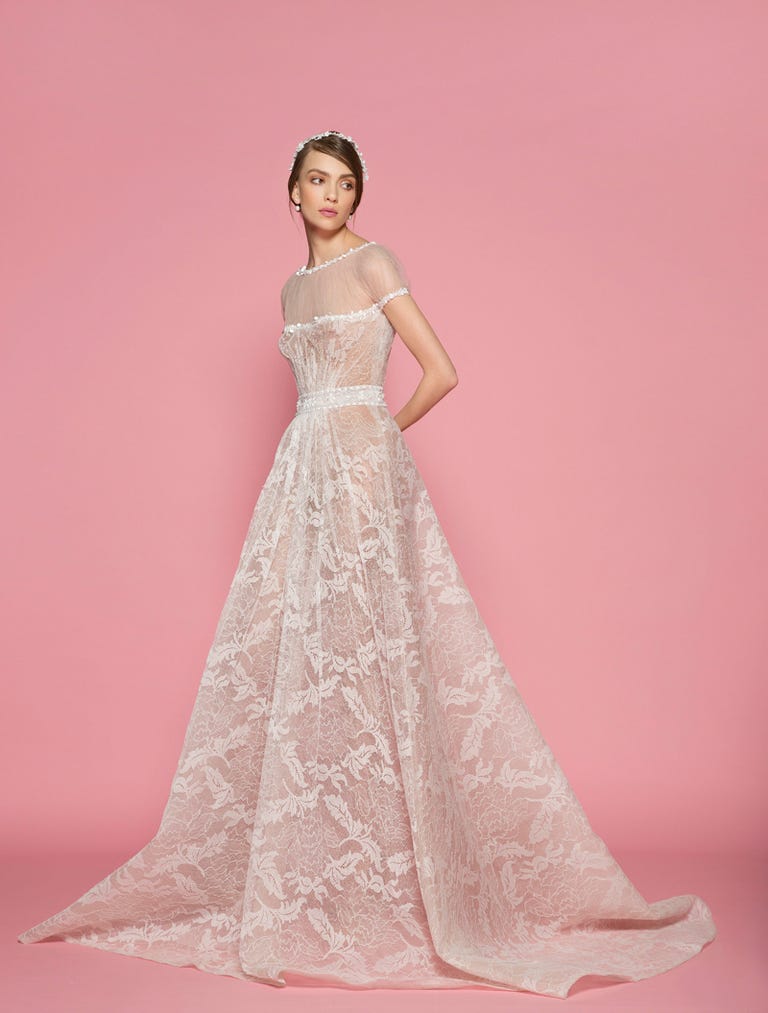 Dream scenario? When a designer who has experience creating Haute Couture designs for the bride in a more widely-available, yet still incredibly high-end way. Elie Saab and Viktor & Rolf have managed to tow the line between their Haute Couture, Ready-to-Wear and uniquely bridal offerings and Beirut-based Georges Hobeika is the latest couturier to land his bridal collection stateside. Think detailed beading, incredible volumes and a superb fit.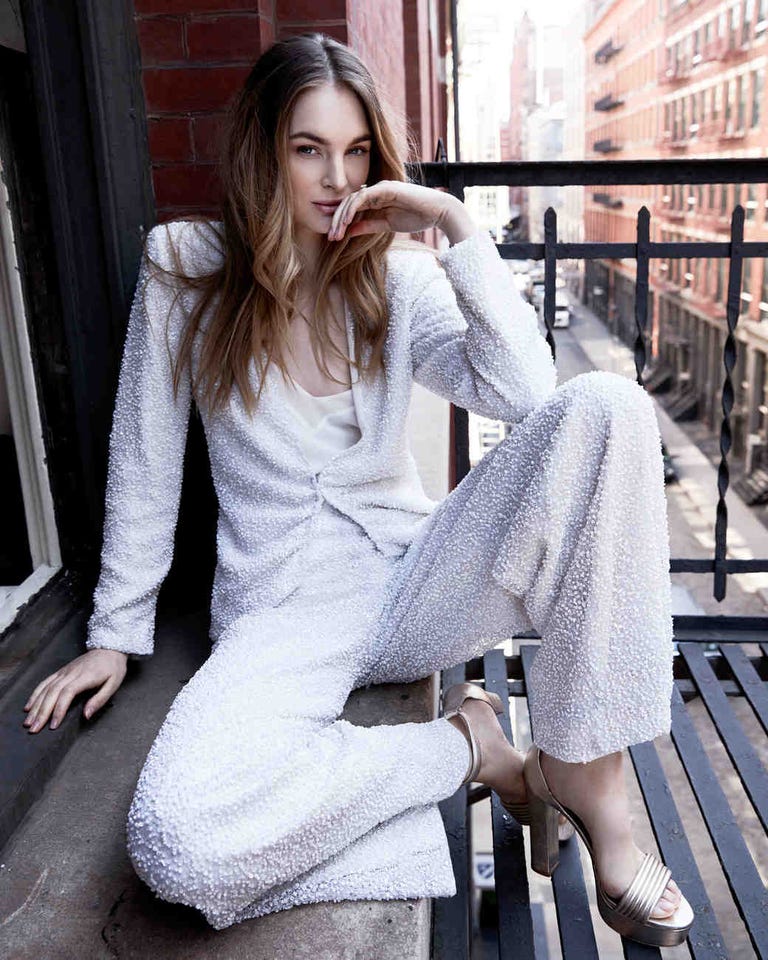 Name sound familiar? Probably because Savannah has a famous sister–but her line is most definitely not in the spotlight due to her VIP family tree. Miller is best known for a bohemian aesthetic with a designer pedigree, having honed her skills in the ateliers of Alexander McQueen and Matthew Williamson. After creating a line in collaboration with Sienna, Twenty8Twelve, and her own countryside nuptials, Savannah sought to offer something different and exclusively for the bride. Her latest collection, dubbed Avalon, is making waves for the low-key, boho set and is only her second to market.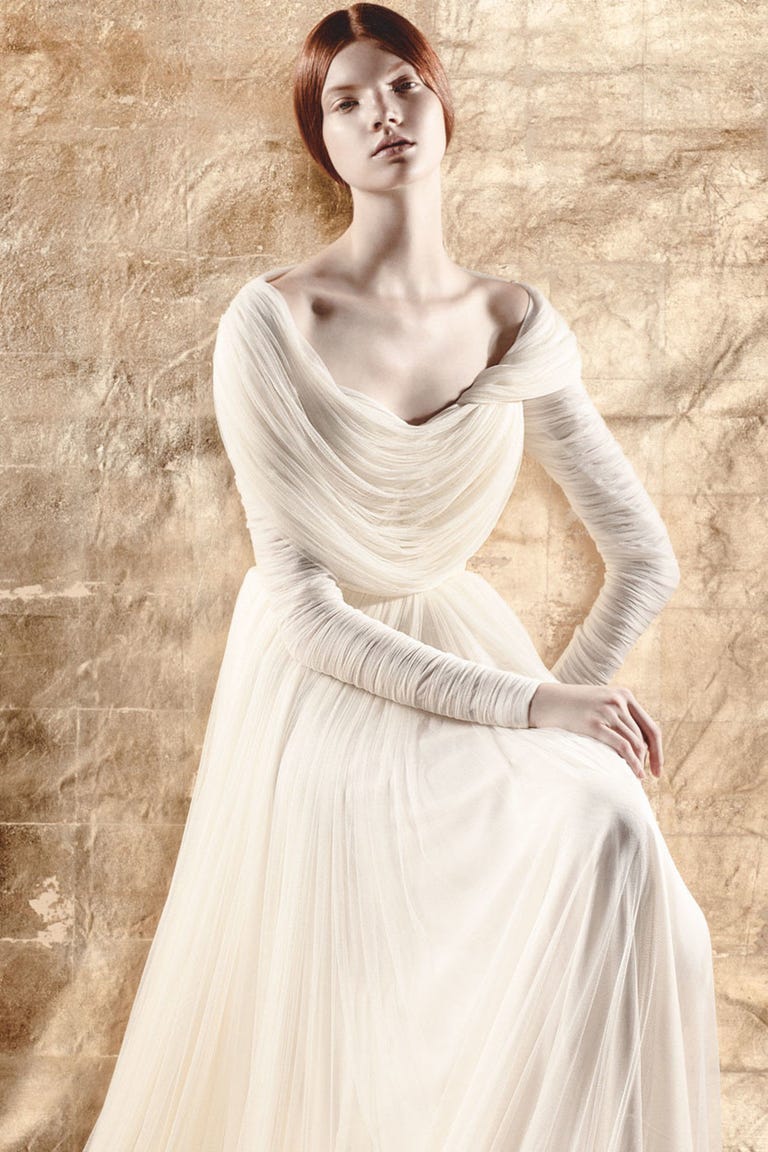 In case you missed the memo: Yes. Creative Director Josep Font of Delpozo designs bridal–stellar bridal at that. Fashion girls the world over have been coveting these gowns for seasons; but for those who didn't know about the designers capsule for the aisle, your style prayers have been answered. Dramatic silhouettes, innovative appliqués and the softest of silk tulles are available through the brand's Miami flagship boutique and through select online retailers like Lane Crawford.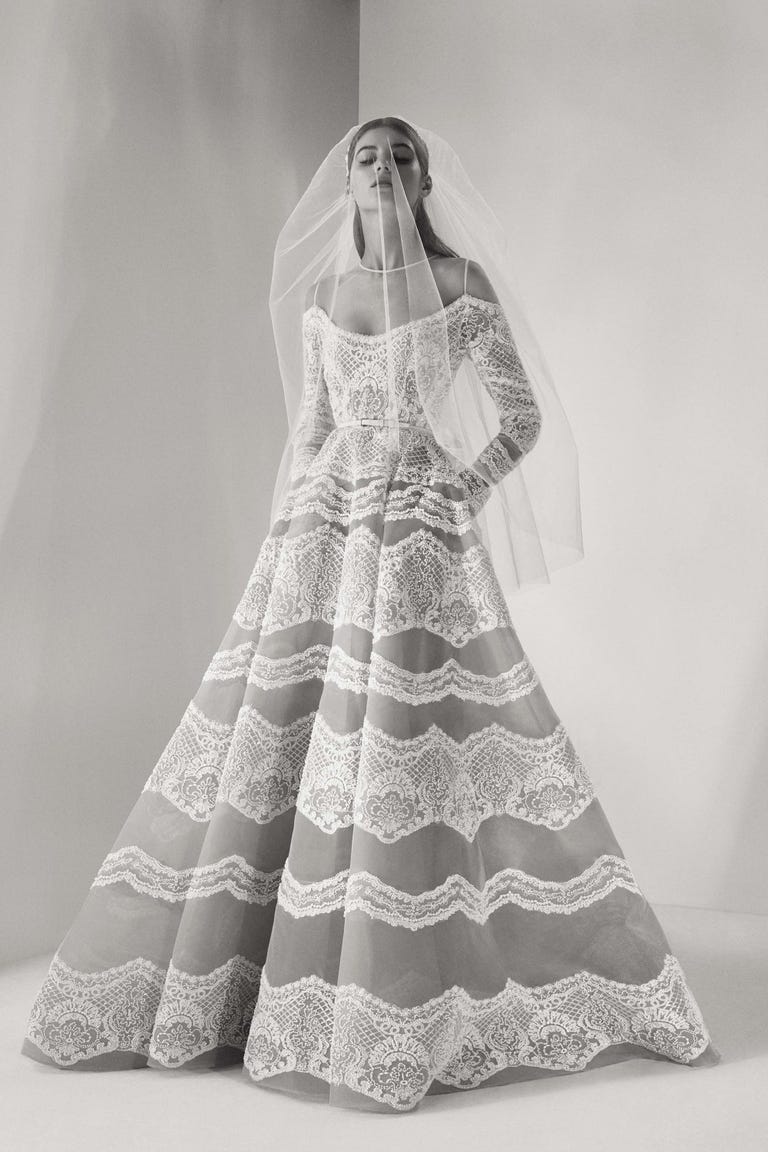 We're well aware that this isn't necessarily a new name to know–but their bridal collection is well worth noting. Let's be real, this is one of the labels we've been dying to have design made-to-order bridal for ages. With two seasons of bridal under their belt, Elie Saab no longer caters to brides solely in a Couture capacity. Now, rather than hopping on a plane to Paris for private atelier appointments and fittings (which you can still do, and it's fabulous), you can also visit boutiques in Miami, New York City, Beverly Hills and in 12 other countries to try on gowns from the brand's bridal range. The gowns are as you'd expect from the runway vet and Haute Couturier–beautifully executed, undeniably romantic, lace-heavy and absolutely breathtaking. Unlike most bridal lines who focus solely on the gowns, Elie Saab launched with a full range of accessories and toppers for the bride, so brides with the budget to do so can style themselves from head-to-toe.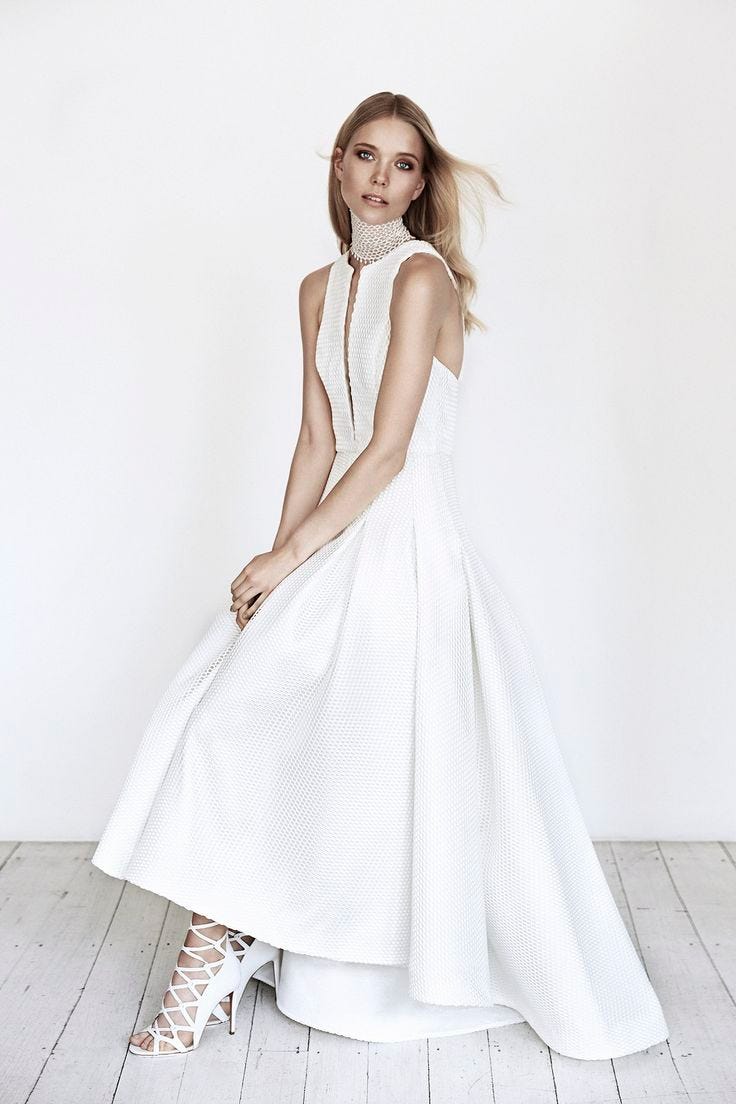 Australian designer Suzanne Harward has been creating bridal looks in Melbourne since 1975, but has recently landed on American soil with stockistsin Los Angeles, San Francisco, Minneapolis and Dallas. Her collections offer something for every bride, and with a current point of view, she merges trend-driven concepts with a keen understanding of her diverse clientele. Her latest collections celebrated clean lines and a neo-Victorian vibe, offering a series of short, high-low, sheath, A-line, fit and flare and ball gown silhouettes with details like chic cut-outs, textural fabrications, 3D appliqués and micro-pleating that felt fresh, fashion-forward and sophisticated.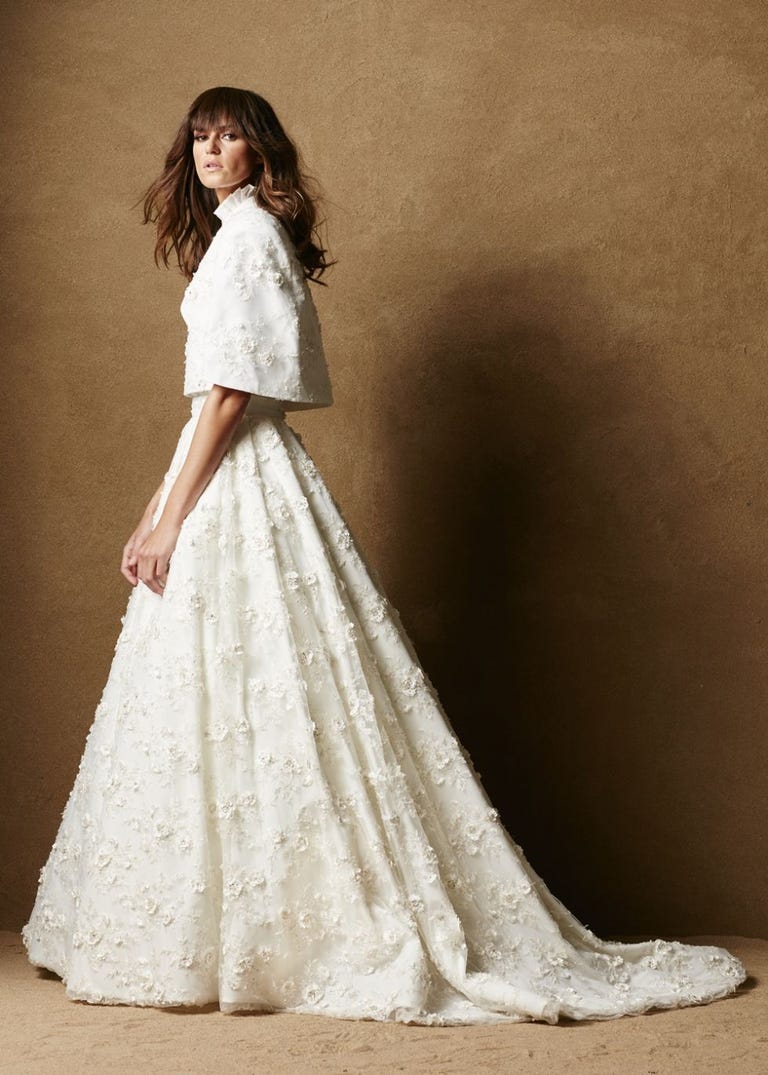 Minnesota-based Caroline Hayden knows her clientele; she launched her first collection, Fall 2016, after years of designing bespoke ready-to-wear, evening and bridal in the midwest. Her hybrid bridal-meets-RTW debut focused on three color ways in three fabrications, all of which were designed to be wrinkle-free and withstand the test of time. Separates are key to this collection's cool factor, where silhouettes gain visual interest, versatility and dimension with each added capelet, vest or pleated-collared blouse. Her smart fabrics are as intelligent as her multi-piece looks, which encourage brides to find ways to wear their special-day separates post-wedding.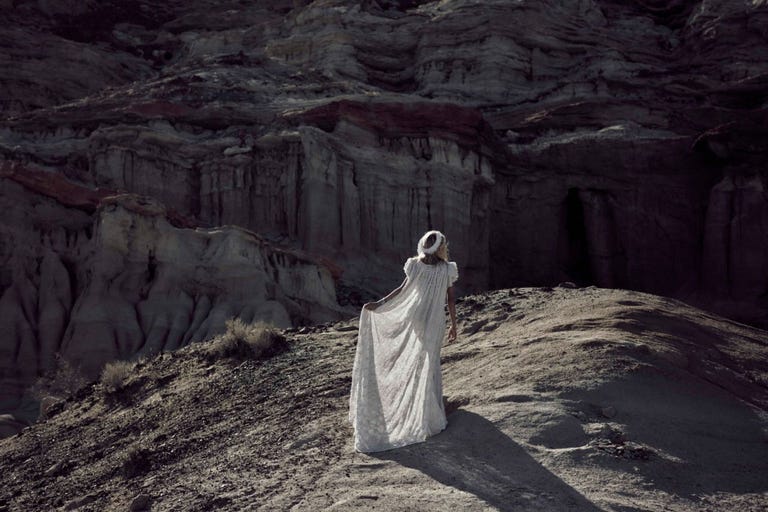 Designer Stephanie White's Los Angeles home base and fashion background come together in Odylyne The Ceremony–a bridal and bridesmaids collection that is equal parts California cool and desert bohemienne. With an indie affinity for fabrics that are outside the bridal box, like laces with celestial motifs, White draws from her dreamy inspirations like theatre, art history, poetry and music to create equally romantic silhouettes complete with super long trains, statement sleeves and cool capes. Her most recent collection, Star Crossed Lovers, drew inspiration from Baz Luhrmann's rendition of Romeo & Juliet–the gothic yet modern takes on Renaissance costuming resulted in pieces that were equal parts enchanting and daring.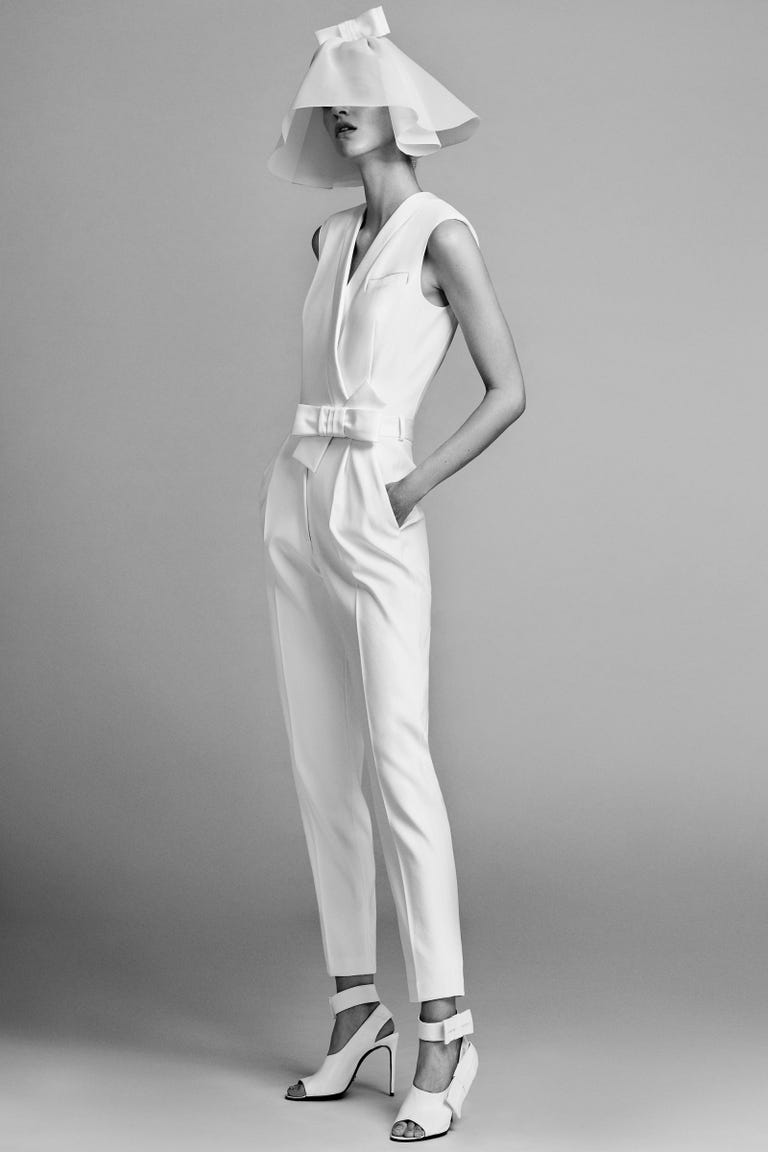 The wedding industry (and bridal salon owners in particular) feel a certain type of deep-seated glee when the news of a heritage brand like Lanvin, a rule-defying label like Vivienne Westwood or a Haute Couturier like Viktor & Rolf(or Elie Saab) is designing a made-to-order collection for the aisle. For Spring 2017, the launch of Viktor & Rolf Mariage wowed us with a 20+ piece range so well-rounded that it seemed a V&R bride would have to look no further, even when on the market for multiple looks. The collection's two jumpsuits were the perfect after-party or rehearsal dinner options and a convertible embroidered gown (a 2-in-1 style that could have fallen prey to looking overwrought and crafty) effortlessly transitioned from an A-line silhouette to a chic mini. Our favorite look? A sweet collared shift dress that would be the perfect mod nod to any civil ceremony.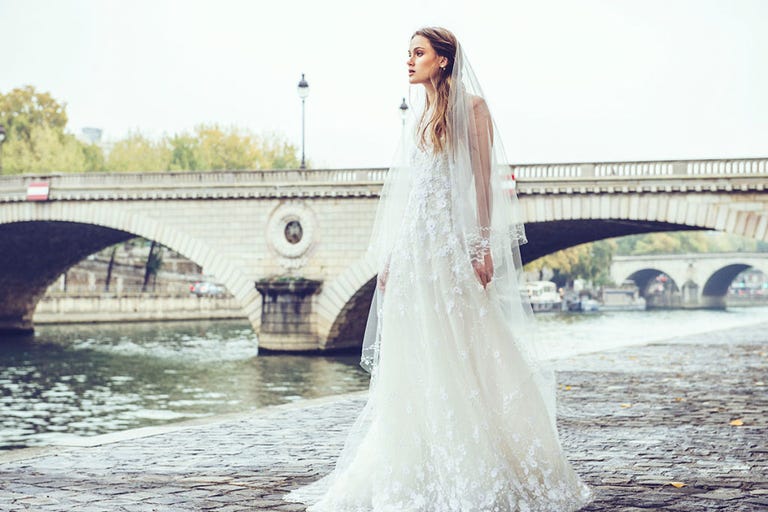 Courtesy of Sabrina Dahan
Years working in Monique Lhuillier's bridal atelier gave Sabrina Dahanthe street cred to launch her namesake collection last season, inspired by her own engagement. The L.A. based designer spent summers in Paris growing up, contributing to her effortlessly elegant aesthetic focused on light-as-air volume and intricate handwork. This designer released a capsule of five delicately embroidered pieces to start for Fall 2016, emphasizing quality over quantity, and continued that knack for fine-tuned editing when she launched a less-than-ten dress collection for Spring 2017.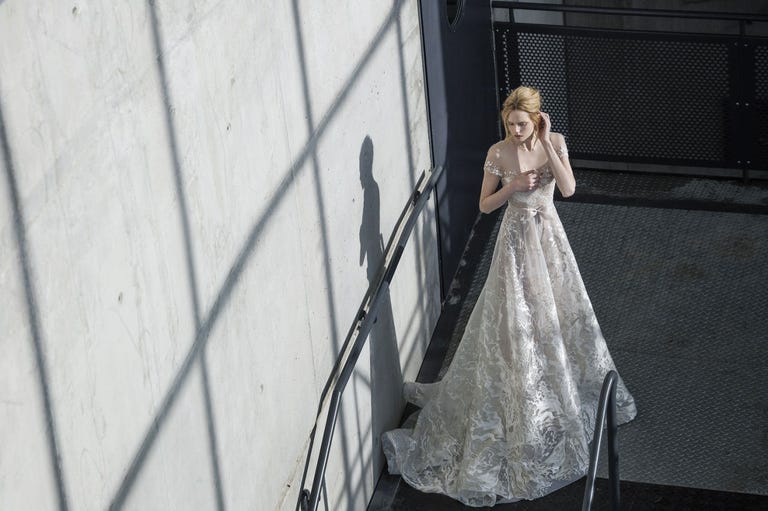 Courtesy of Mira Zwillinger
After proving themselves for the past six seasons in the U.S. (they were mainstays in Israel for years before landing stateside), Tel Aviv-based mother-daughter duo Mira and Lihi Zwillinger are well on their way to cementing their point of view on the American bridal market. Known for their incredibly delicate appliqués, second-skin illusion net necklines and weightless volume, this family-run atelier uses soft color (think barely-there nude and soft, cloudy greys) and the highest quality fabrics to create silhouettes for any occasion. If you are seeking a romantic style with a European sensibility, their website should be in your bookmarks.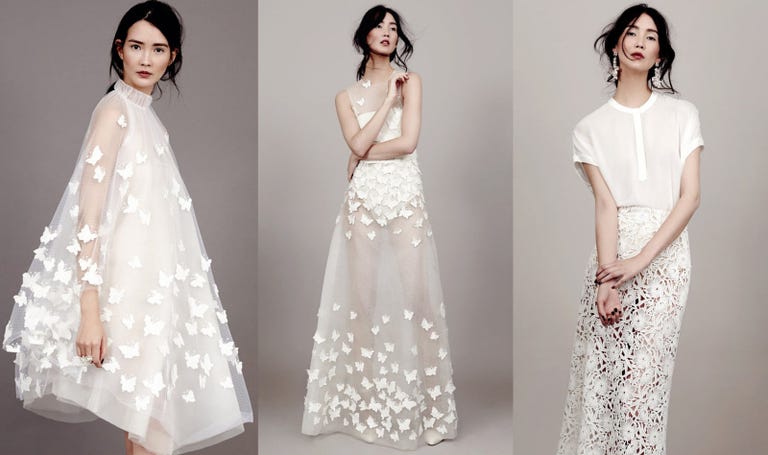 Courtesy of Kaviar Gauche
German design duo Alexandra Fischer-Roehler and Johanna Kühl launched Kaviar Gauche with a guerilla fashion show outside of Colette in Paris in 2004. And their bridal collection that followed in 2009 retains the brand's young, fresh perspective and understanding of what modern women want. Case in point: their pret-a-porter bridal collection available for purchase online at accessible price points. If you're looking for details that feel unexpected, feminine and undeniably wearable, Kaviar Gauche is worth adding to your online shopping cart.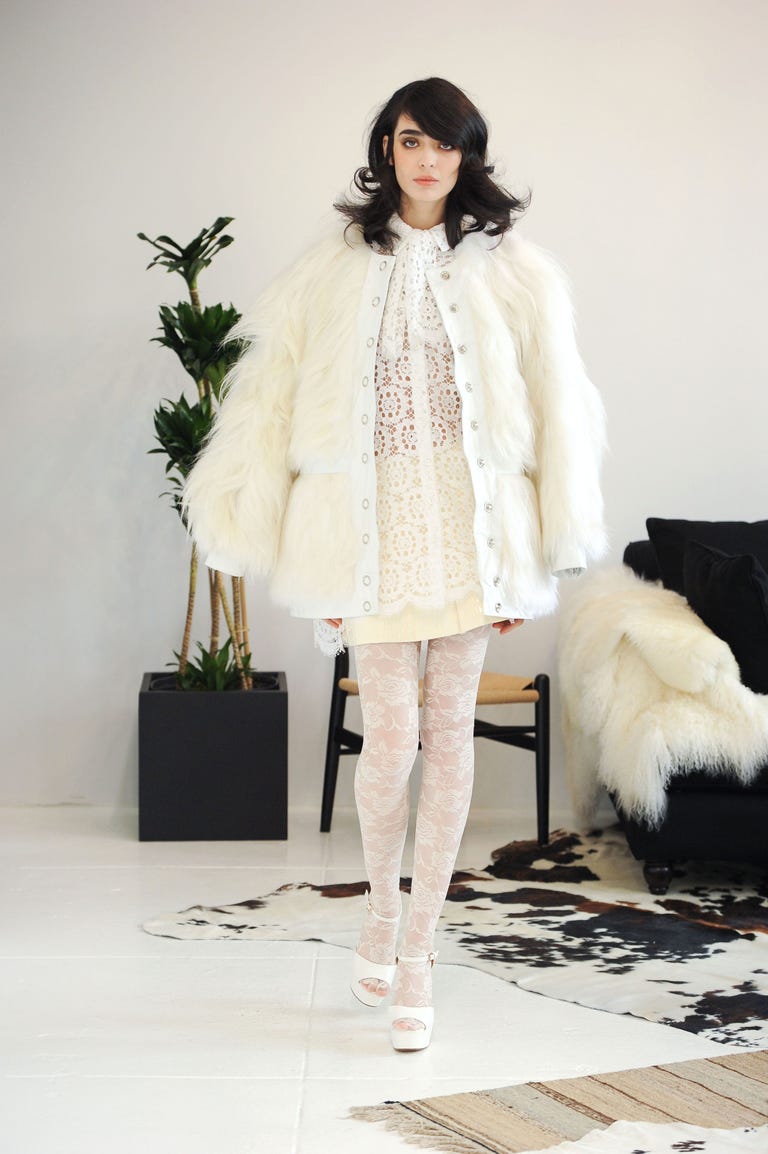 Inspired by style icons Katharine Hepburn, Bianca Jagger and Patti Smith, this line is the epitome of laid-back luxury. Designer Katharine Polk's bridal collection seamlessly transitions into her ready-to-wear offerings, creating pieces worth wearing more than once and bridal separates that allow for some styling freedom and post-nuptial mixing and matching. Houghton's bridal outerwear like a satin bomber with "Not Your Baby" artfully emblazoned on the back and a wide range of fur toppers separate this line from the others offering separates. A variety of easy-to-wear silhouettes will attract the bride who is turned off by corsetry, ballgowns and sweetheart necklines. One visit to their New York City studio or one of their many nationwide retailers and brides in the know will get it: Polk designs clothes brides want to wear.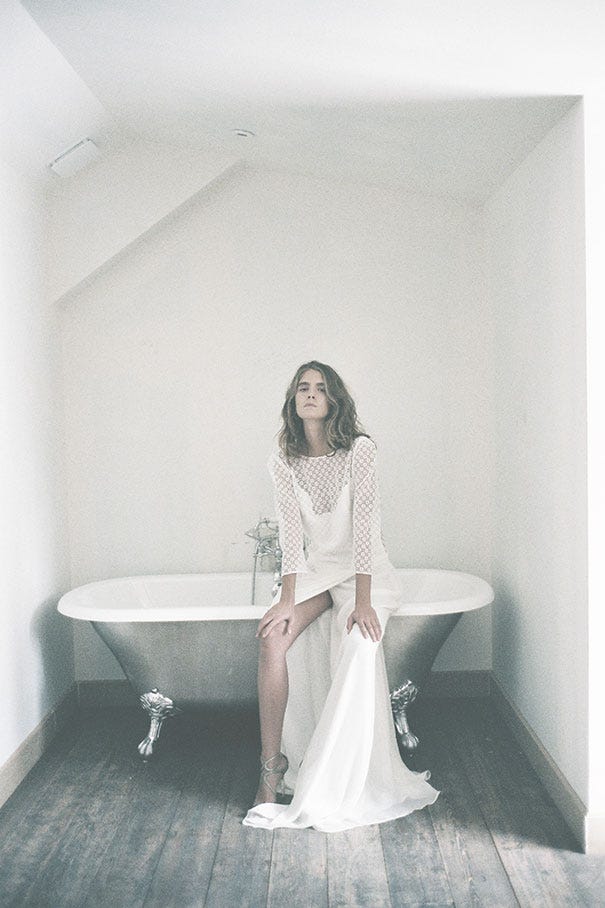 With a background styling for international fashion publications, designer Donatelle Godart knows what it takes for brides to have an inherent sense of style. Infusing her Parisian je ne sais quoi into each silhouette, Godart consistently channels 70's vibes, turning to David Hamilton and Jane Birkin for inspiration. The fabrics are always luxe despite the brand's accessible price point, and unlike lines that focus on slips and bias cuts–these actually flatter on a wide variety of body shapes and sizes. Think "laissez faire, French girl vibes with a little bit of Ossie Clark thrown in," says experienced bridal shopper, bride-to-be and BAZAAR.com editor Olivia Fleming.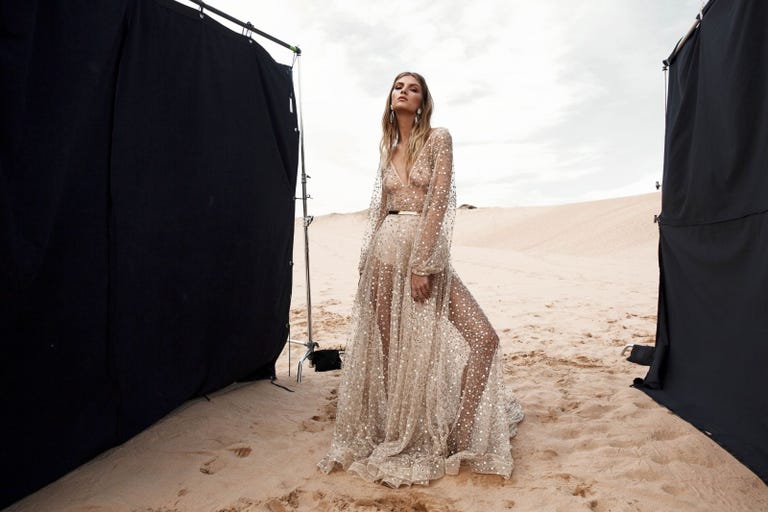 Introducing: the Aussie downtown it-girl. One Day taps into the irreverent cool and effortlessness of Abbot Kinney, Paris and SoHo for easy, chic looks with a dose of glamour. Geared toward the bride who wants something "a little less bridal, a little more modern," One Day seeks to break the rules–while remaining undeniably wedding-day appropriate.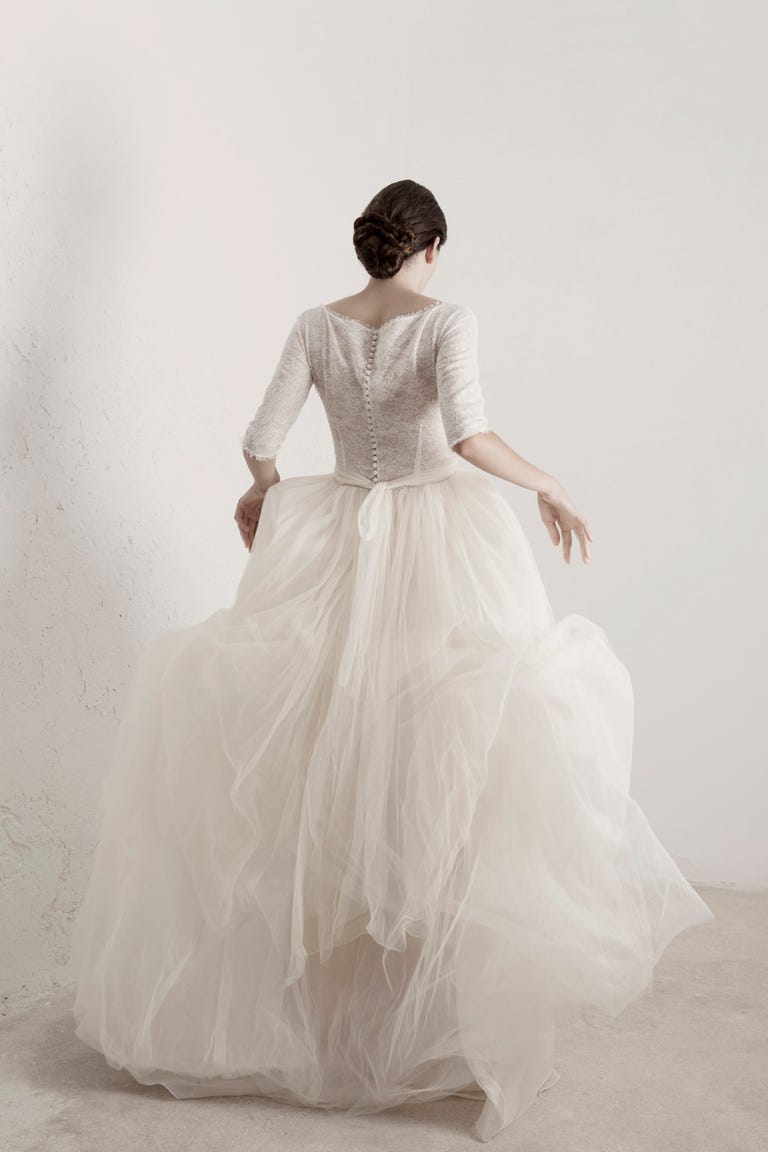 If you've hit your local bridal salons and department stores and find that most gowns are far too stuffy, stiff or overwrought for your taste, this brand gets you. Fine fabrics are this Barcelona-based brand's forte, spinning multi-ply charmeuse, chiffon and silk tulle into slim sheaths and fuller skirts that feel equal parts low-key and traditional. Delicate touches like a frayed edge or a wider weave in their fabrics feel special, not unfinished, and design details that amplify comfort (like ballgowns that are actually separates in disguise) are hidden throughout the brand's range.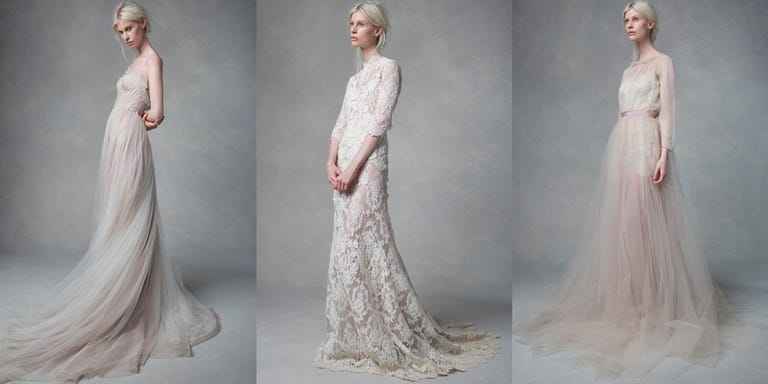 Courtesy of Samuelle Couture
Ever dream of having a celebrity seamstress work her magic on the gown you'll wear down the aisle? Asked and answered. Samuelle designer and founder Sam Walls has created a truly bespoke Brooklyn-based line where every order is handmade to the client's most-detailed measurements, unlike most brands which are made-to-order but certainly not made-to-measure–despite what most salons will allow you to believe. Sam has experience tailoring in the ateliers of fashion's bests, creating gowns worn on the red carpet and in some of history's most memorable fashion photos. Her personal aesthetic is undeniably ethereal, with custom-dyed fabrics (don't be surprised if your champagne tulle gown has an aubergine lining hidden beneath its layers for depth in tone), hand-cut appliqués and draping.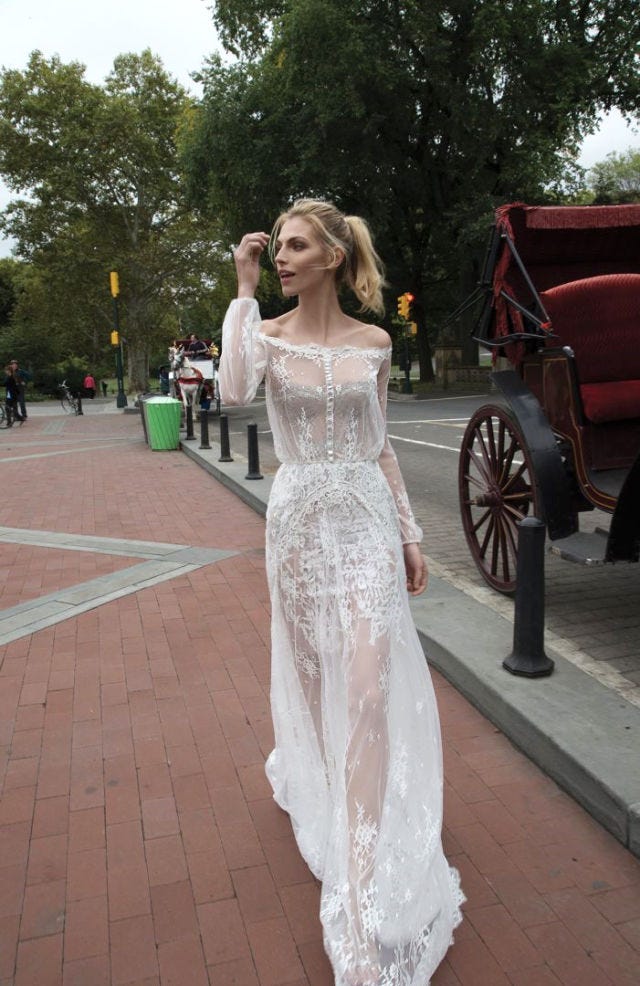 Second-skin silhouettes are Inbal Dror's specialty–and most of her curve-hugging gowns are designed to contour to all your assets using the finest meshes and French laces. Sheer elements are a common theme in this range, from illusion necklines and sleeves to subtly see-through skirts. While Inbal's name is one to know for the bride whose confident in her own skin (and has worked for a figure worth showing off!), her latest collections have also featured jaw-dropping ball gowns, jumpsuits and eveningwear to suit those looking for something a little less body-con. If Beyoncécomes to mind when thinking of your bridal style inspiration, put this designer's name on your short list.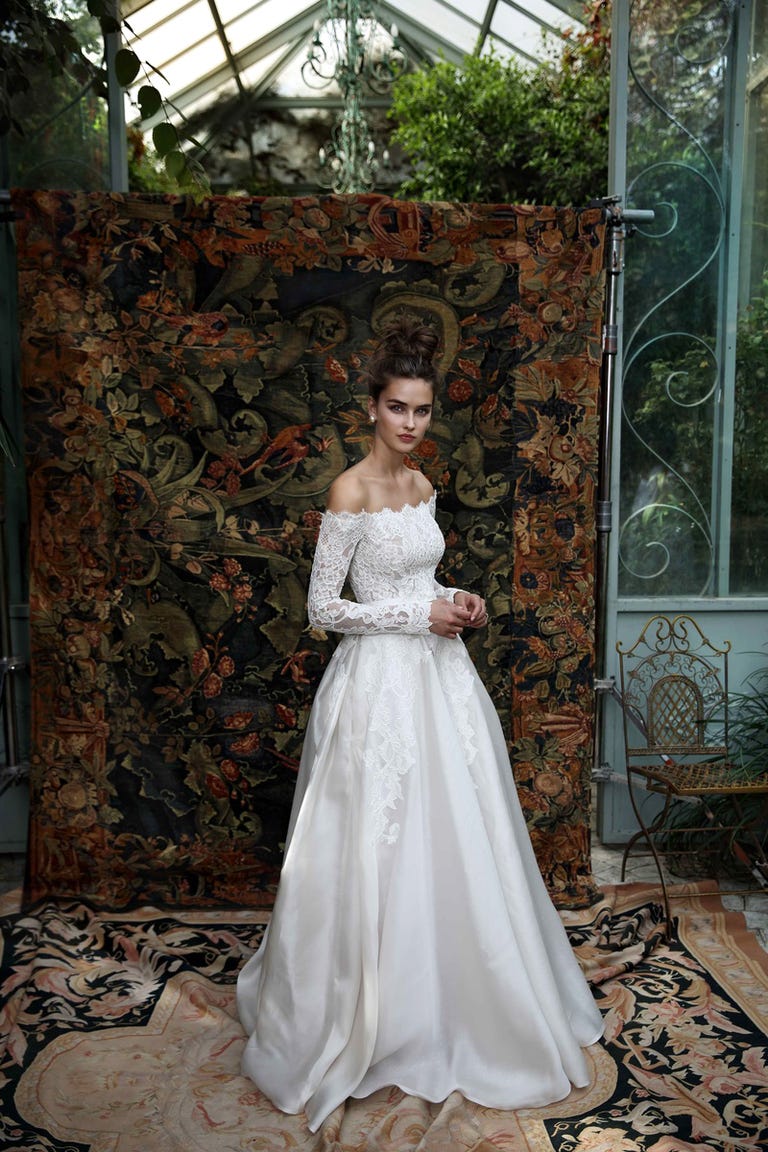 Shapewear is typically the plight of most brides leading up to a first fitting (along with shoes and overall anticipation), but what if it was already built into your gown and taken off your to-do list? Lihi Hod's got some designer pedigree from her time in John Galliano's atelier in Paris (circa Dior) and has taken that know-how to her cutting table. Each gown is lined in a fine stretch-mesh, and hidden separates are secretly bodysuits that smooth your curves and ensure expert fit. Body-shaping aside, Hod's aesthetic is Euro-bohemian, easy-going yet elegant. This designer walks that fine line of cool girl with a Couture-feel, understanding each bride's desire to find the balance between timeless and trendy.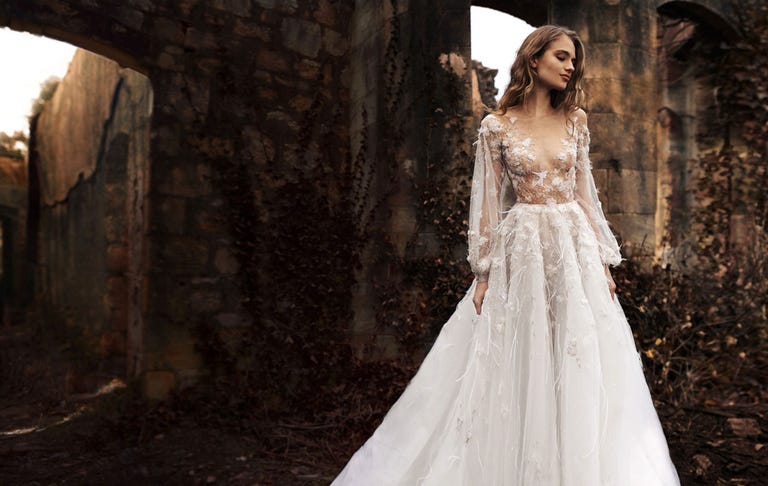 In 2014, when Pinterest took over the wedding-planning industry and gave brides a reason to spend each weekend in bed with a cup of coffee plotting for their dream dress, there was one gown that was pinned to more boards than any other: Paolo Sebastian's ballerina-inspired gossamer gown, dubbed Swan Lake, broke the Internet. Ever since, this Australian designer has never wavered from his delicate embellishments and romantic aesthetic, delivering bespoke bridal and Couture-quality creations each season. Most of his collections are eveningwear and in color, but almost all of it translates seamlessly to the aisle when made in ivory or a pastel upon request.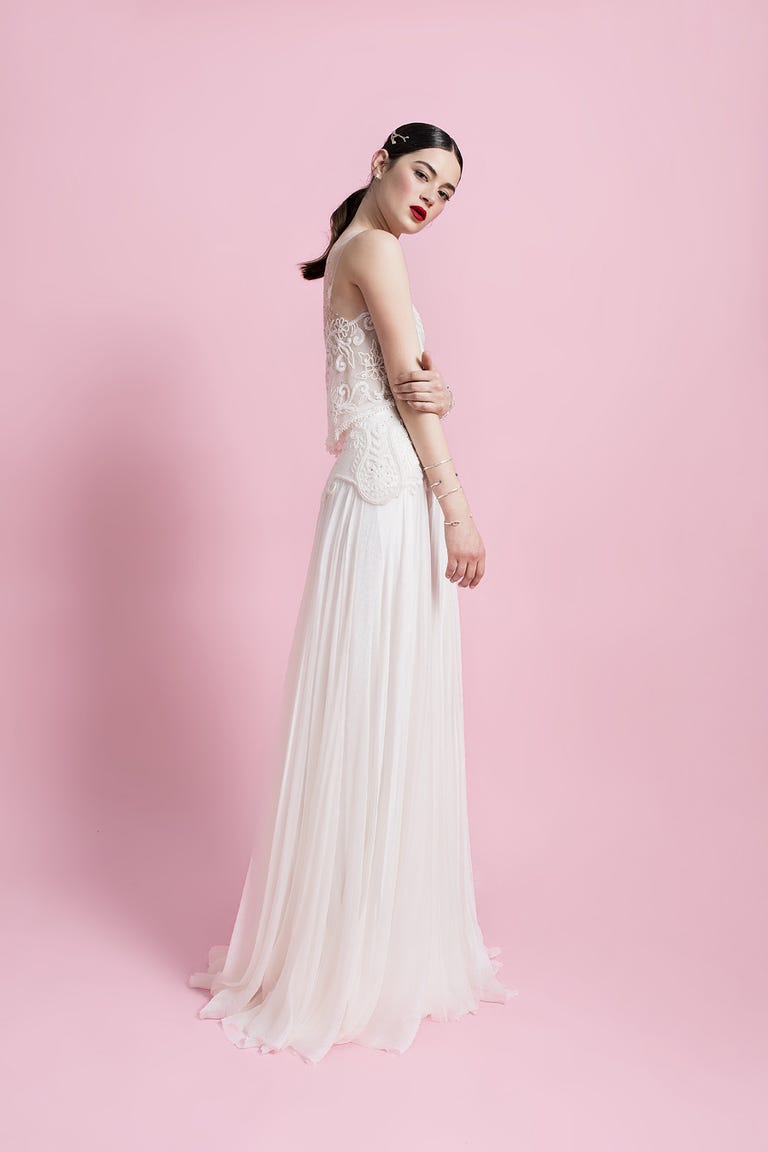 Don't be so quick to lump together designers from one part of the world–be it the French wave of downtown cool, Americans' obsession with layering pieces or the Israeli fondness for second-skin illusion fabrics and sexy silhouettes. With that said, Anya Fleet would like you to acknowledge that these Israeli designers–all different in their own rights–appreciate some of the same things when it comes to design, like quality fabrics, top-notch construction and high style. Her designs range from the truest bohemian to prim and proper (think high collars and 50's skirts), but her detail-oriented aesthetic and expert fit will likely keep fans coming back post-wedding for her super-luxe eveningwear.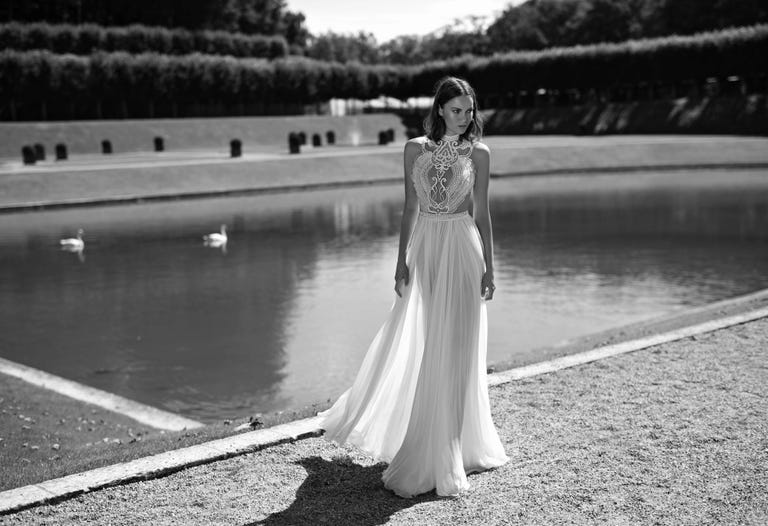 A graduate of the workrooms of Alexander McQueen and Roberto Cavalli, Tel Aviv-based Alon Livne blends drama, detail and sex appeal for designs that range from ethereal to jaw-droppingly dramatic. Always conscious of the female form and finding new ways to approach appliqué, this designer is a refreshing addition to the bridal scene. Almost never working in soft ivory, opting for more of a vibrant white, Livne's gowns strike the balance between the aisle and the red carpet–ideal for the woman looking to make the most of her moment in the limelight.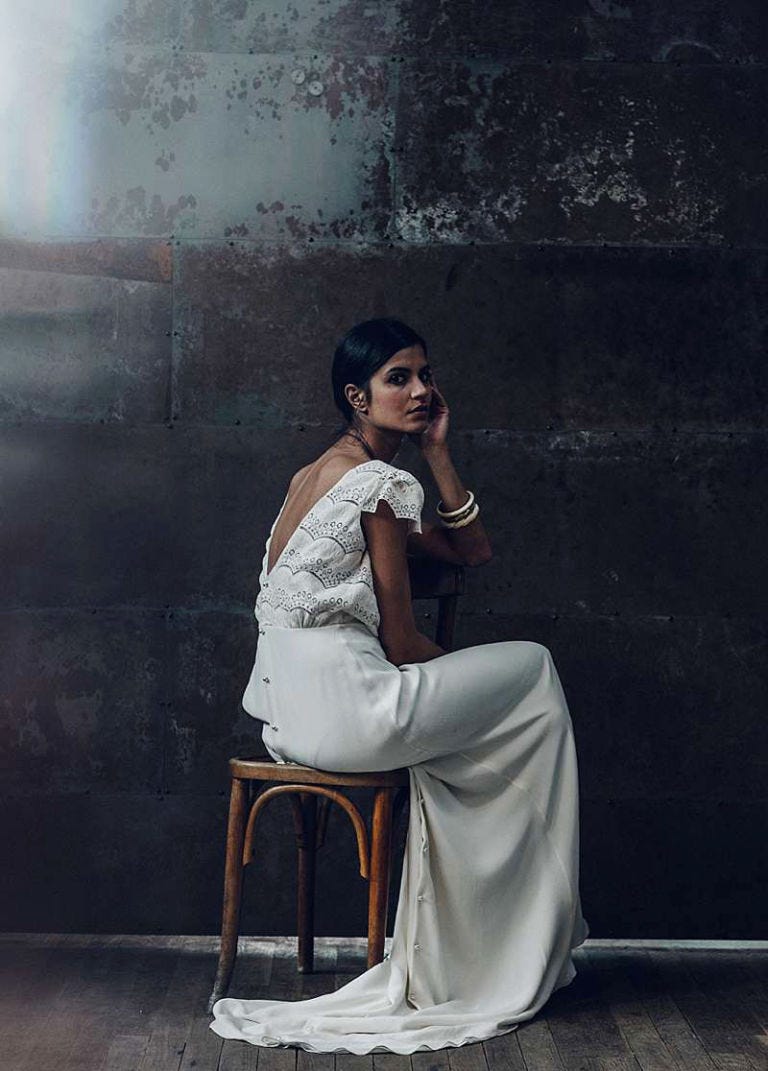 Laure de Sagazan is for those who yearn for wedding-day Coachella vibes, a Jane Birkin-esque effortlessness and the ability to eat, drink and dance without a fussy train or a fluffy skirt. Her separates, cocktail options and wearable fabrics suit civil ceremonies and receptions alike, and her relaxed fits and silhouettes take the stress out of fittings. Parisian born and based, Laure has access to the best of the best laces–and her designs prove that there are alternatives to it's super-feminine, floral variations.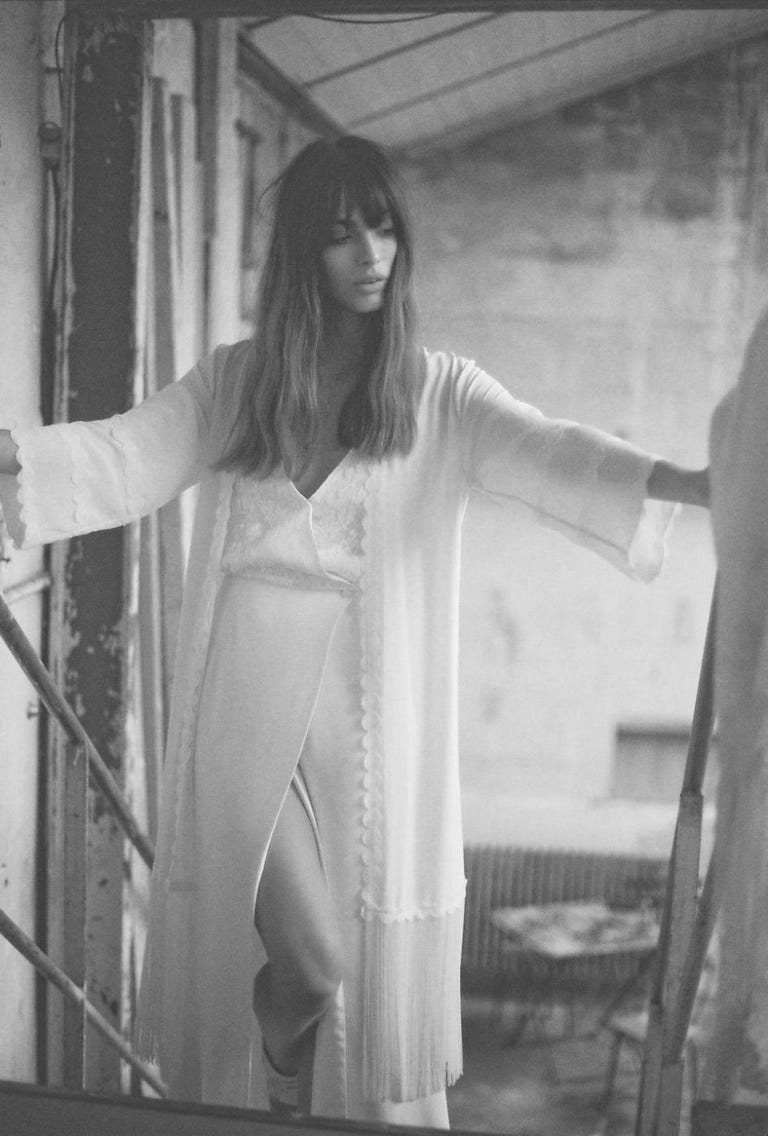 There's a new wave of gamine, Parisian cool sweeping the bridal world and key names on this list like Rime Arodaky, Donatelle Godart, Laure de Sagazan and Elise Hameau are at its helm. Elise is probably most definitively festival-chic of this new wave of bridal Frenchie it-girls, with her effortless slips, kimono jackets and knits in tow. For those who may brand her as too boho, note that her line has elements of edge–the designer tends to pair all of her looks with bed-headed hair, a French fringe and stiletto lace booties.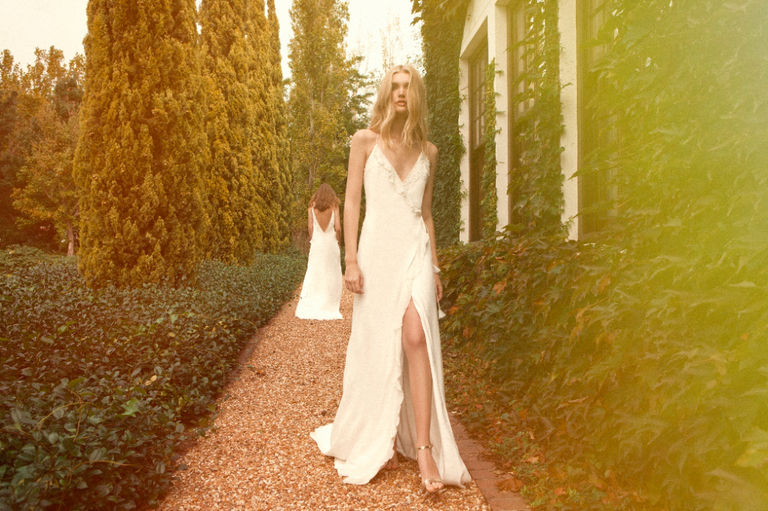 Inspired by exotic cultures, nomadic travel and "the romance of bohemia" paired with a nostalgia for eras gone by, Bo & Luca should be your go-to for easy styles that don't skimp on special details. Think sexy, effortless, slips with a thigh-high slit, beaded sheaths with sexy, open backs and an overall ease that perfectly suits a garden, beach or woodland affair. Based in Australia and with a flagship in Cape Town, it's no wonder why this brand designs for the no-fuss bride with a dreamy sense of adventure.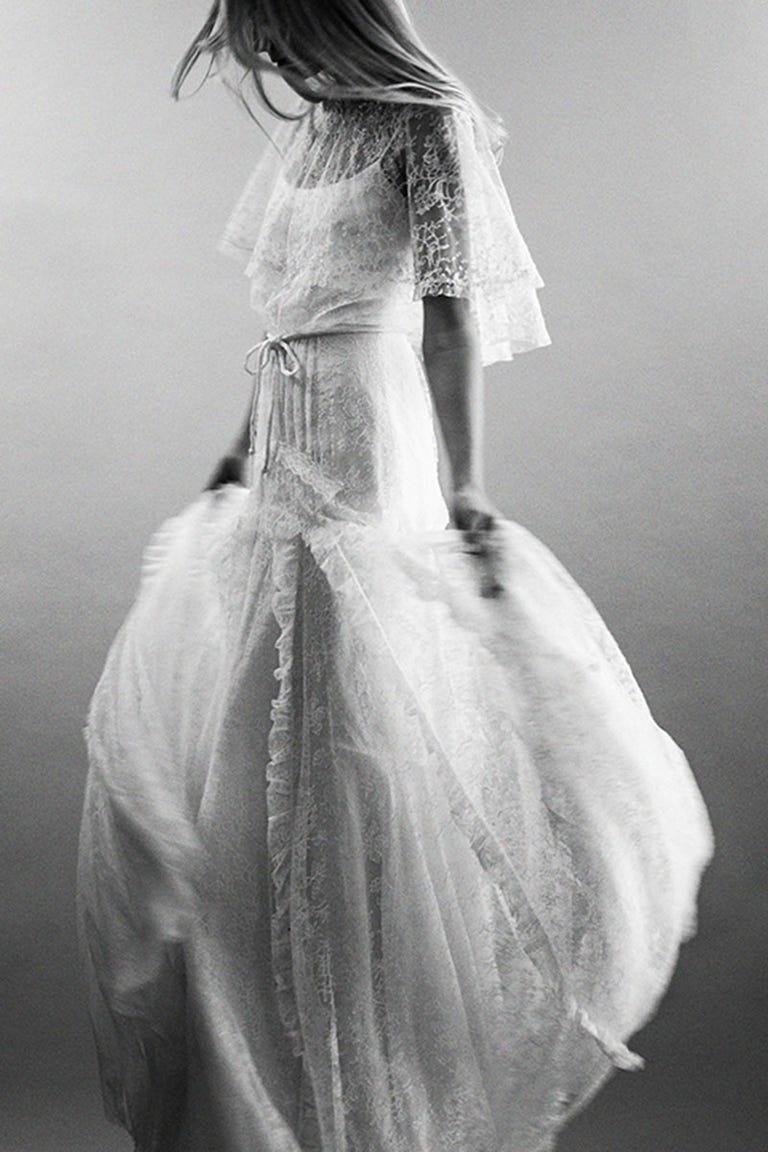 When thinking about classic French design houses who have set the pace in the world of exquisite fabric choices, design innovation and quality of construction, like Dior, Valentino and Nina Ricci (just to name a few), a certain standard comes to mind…and it's high–very high. That level of expectation is consistently in the back of designer Celestina Agostino's mind, and she credits the brilliance of Europe's famed houses for keeping her on her toes. A Paris-based atelier is a good start, giving her access to the laces and mills required for the highest quality product. But unlike Couture, Agostino's work is truly wearable and serves as a delicate, feminine canvas for styling with her Chantilly boleros and cool versions of bridal belts.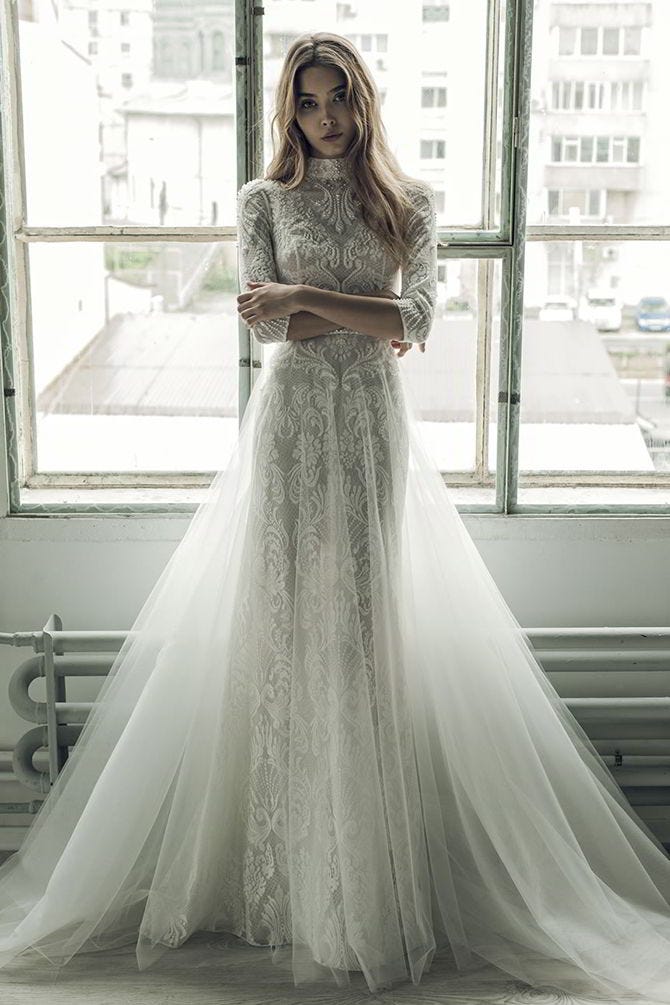 A princess bride meets a modern day free spirit in all of Ersa Atelier's designs. In their Bucharest-based atelier, the story of a gown "always begins with Once Upon A Time…but takes place in present tense." The sister design duo, Gabriela and Cristina Antonescu, came up through the fashion ranks in Romania side by side, apprenticing for seven years before opening their atelier. Romantic details like sheer overskirts, mock necklines, sheer insets and subtle uses of color set this line apart from its counterparts.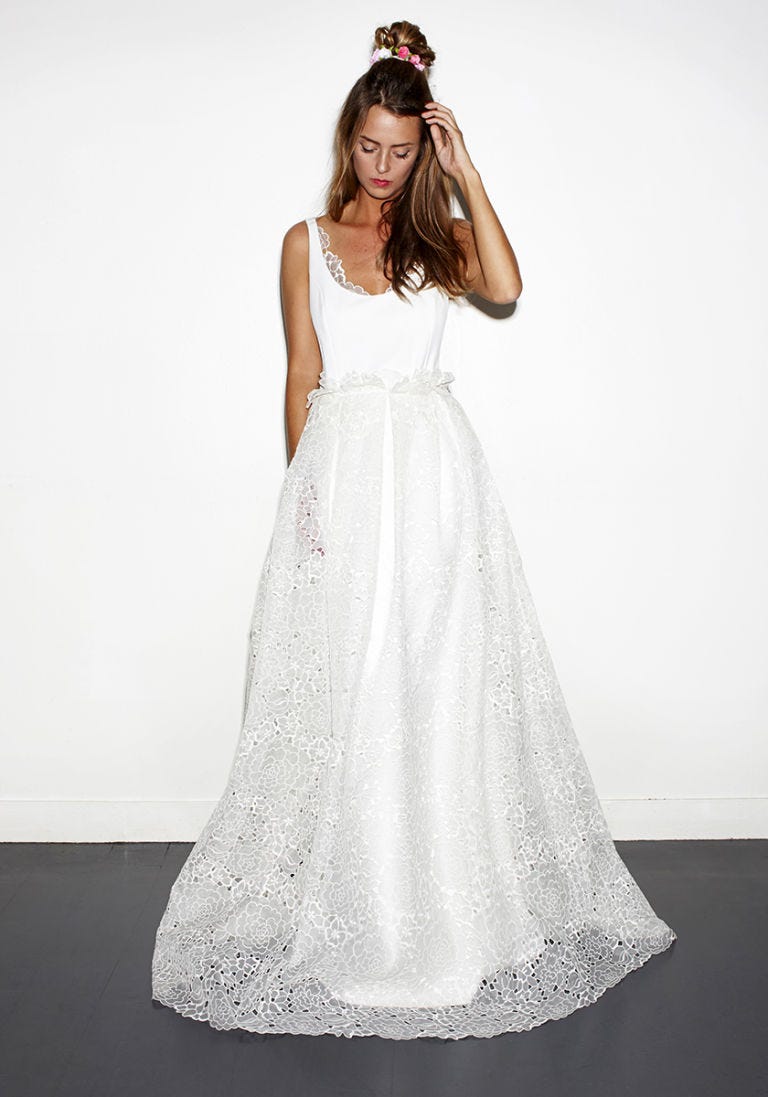 Nods to the 60's and 70's, a Rock n' Roll sensibility and a French understanding of quality and construction define cool-girl Rime Arodaky's aesthetic. Wear a sheer ball skirt over a crepe gown trimmed in Chantilly lace, throw a white leather and lace moto jacket on top of an embroidered sheath with a sheer skirt, or skip the drama and go for a shift dress with fitted lace sleeves. Oh, and pair the whole look with platform creepers. This designer doesn't believe in bridal styling rules, and her collection insists that you only embrace as much tradition as you feel comfortable with. Looking for a reception dress to slip into post-vows? Her civil collection is intended for courthouse signings before your big day or for late-night dance parties.